08 novembre 2013
Rae Carson has kindly accepted to answer to my questions for the French release of The Crown of Ember on October 17th.
What kinds of books do you like to read? What is your last favorite book?
I love to read beautifully written books that don't skimp on adventure. My favorite recent read is SALVAGE, by Alexandra Duncan, which comes out in 2014. It's like Margaret Atwood for teens, and it's amazing. I don't know if it will be published in France, but I certainly hope so.
Elisa is a charismatic and touching heroine. She is very smart but suffered from a physical complex. Have you been inspired by a real person for this character? Did you have a message to send to your readers through this story?
I've known many teenaged girls who are a lot like Elisa—insecure, uncertain, and completely unaware of their own potential because society's standards cause them to place value in the wrong qualities. If there's any message in my books, I hope it's that each young woman is in charge of her own destiny—no matter what others think.
I'm in love with Hector, he will take a more important role in the future. Can you tell us more about him?
Hector was Elisa's first real friend after she moved to a new country. He sees her worth right away and treats her with respect. He is the commander of the Royal Guard and has a lot of responsibility for someone so young. He is also handsome, smart, and an incredible warrior. Don't be surprised if Hector and Elisa grow closer and closer over the course of the series!
Why aren't there other points of view except Hector's, and only in the third book? Did you plan it since the beginning of the series?
My plan was to show only Elisa's point of view! But as I started writing The Bitter Kingdom, I realized there were parts of the story that only Hector would know. So I wrote a scene from his perspective as an experiment—and I loved it! It was fun to see how the two of them could work together for a common cause even though they were separated. I think it ended up showing the closeness of their relationship.
The characters in your novels travel through the beautiful but hostile wilderness, deserts and mountains. Have you done some research on the geography of the kingdoms?
Growing up on the west coast of the United States gave me lots of experience with deserts and mountains, so I didn't need to do a lot of research. However, I had no experience whatsoever with tropical locations. So, for The Crown of Ember, of course I had to make a business trip to beautiful Cancun on the Caribbean coast of Mexico! Ah, my job is so hard…
Why did you set up the kingdoms in Spanish universe?
I was learning to speak Spanish at the time, so it just seemed natural and right.
How did you get the idea of the sacred stone lodged in Elisa's navel?
I was getting my belly button pierced when it occurred to me that magic belly jewelry would be the weirdest, silliest amulet of power ever seen in a fantasy novel. And once I had the idea, I couldn't get it out of my head.
What aspect of your story did you prefer to write? The action or the romance?
I love them both. In fact, I think both action and romance are made more intense and satisfying by being in partnership. They're perfect together!
We, readers, were upset about the disappearance of some characters. What was your reaction about this?
Yes, I can understand that. But if a serious, dramatic book that features war and death does not upset readers somewhat, then it's not doing its job. There are many books that won't deal realistically with war and loss, and I don't blame readers for occasionally preferring them. But those are books that I will never write.
You wrote some novellas in the point of view of other characters. Do you intend to continue writing in this universe, with the same characters or others? Perhaps the story of Alodia we know very little?
I'm not sure yet! I have some ideas, but I have very little time. I make no promises, but I will say that I haven't decided against it.
Do you have a message for your French readers?
Thank you for reading my books! I'm so grateful to my readers, and I hope you all continue to enjoy Elisa's journey.
Thank you so much Rae for this interview and for your kindness!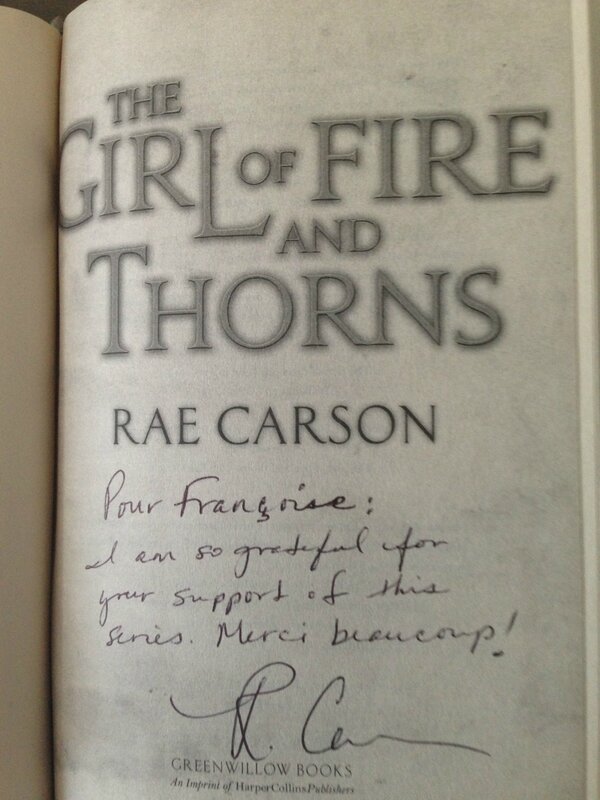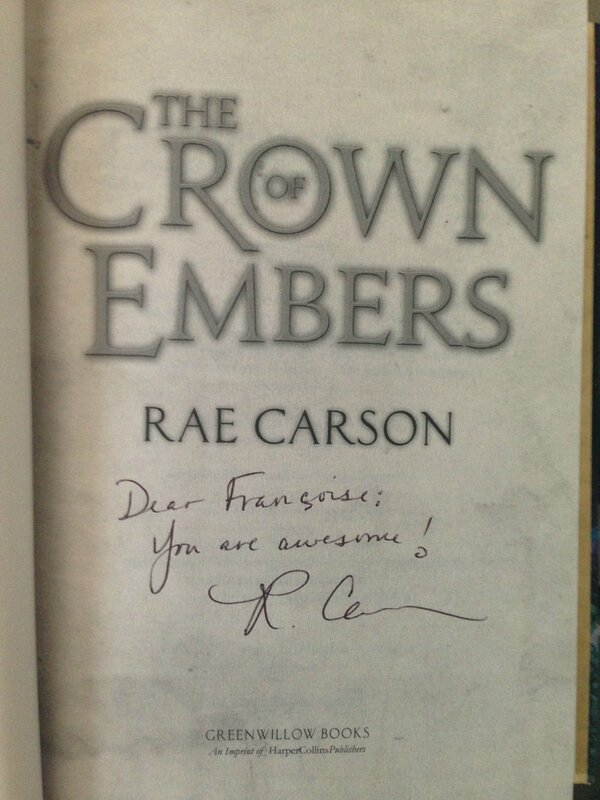 Vos messages