13 novembre 2015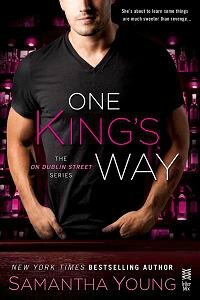 Présentation de l'éditeur
When he's not working at the club, Craig Lanaghan looks out for his mother and little sisters. So when it comes to women, all he wants is a good time. But once Rain Alexander walks into his life, there's no denying that this woman could be worth much more than a one-night stand….
Rain's lifelong regret is having left her sister Darcy alone years ago with a guardian who turned out to be abusive. So when Darcy's boyfriend publicly humiliates her in a cruel way, Rain's overprotective instincts kick in and she follows him to Club 39—where she meets a guy who just might be her perfect match.
The chemistry between Rain and Craig is explosive, but Rain is out for revenge, and refuses to be sidetracked by flirtation. As things between them heat up, she'll have to make a heartbreaking choice between giving in to the man of her dreams or putting her sister's happiness first….
Mon avis
Je suis une grande fan de la saga Dublin Street, et je me rappelais de Craig du premier volet lors de la fameuse scène de jalousie entre Joss et Braden au Club 39. L'histoire semble d'ailleurs se passe juste après chronologiquement, donc j'étais contente de revoir mes personnages préférés.
Craig adore flirter et ne pas s'attacher, mais dans cette histoire, nous découvrons un côté de lui plus doux, protecteur et romantique, avec son fort attachement à sa famille et sa possessivité par rapport à Rain.
La romance est très mignonne bien que pas vraiment développé, ce qui est du sûrement au format de novella.
J'espère que Samantha Young continuera à nous ravir avec quelques aperçus de ses personnages chouchous qui l'ont fait connaitre.
Vos messages