14 décembre 2015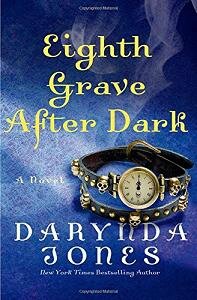 Présentation de l'éditeur
Charley Davidson has enough going on without having to worry about twelve hellhounds hot on her trail. She is, after all, incredibly pregnant and feeling like she could pop at any moment. But, just her luck, twelve deadly beasts from hell have chosen this time to escape onto our plane, and they've made Charley their target. And so she takes refuge at the only place she thinks they can't get to her: the grounds of an abandoned convent. Of course, if hellhounds aren't enough, Charley also has a new case to hold her attention: the decades-old murder of a newly-vowed nun she keeps seeing in the shadows of the convent.
Add to that the still unsolved murder of her father, the strange behavior of her husband, and Charley's tendency to attract the, shall we say, undead, and she has her hands full…but also tied. While the angry hellhounds can't traverse the consecrated soil, they can lurk just beyond its borders like evil sentries, so Charley has been forbidden from leaving the sacred grounds. Luckily, she has her loyal team with her, and they're a scrappy bunch who won't let a few thirsty hellhounds deter them.
While the team scours the prophesies, searching for clues on the Twelve, for a way to kill them or at least send them back to hell, Charley just wants answers and is powerless to get them. But the mass of friends they've accrued helps. They convince her even more that everyone in her recent life has somehow been drawn to her, as though they were a part of a bigger picture all along. Their presence is comforting. But the good feelings don't last for long because Charley is about to get the surprise of her crazy, mixed-up, supernatural life….
Mon avis
Ce huitième roman est un volet de transition dans l'histoire de Charley Davidson. On connait la condition de la jeune femme, et pourquoi ils en sont arrivés là. Mais ça ne gêne en rien Charley qui continue à faire des siennes et à aller au-devant du danger de manière inconsciente, alors même qu'elle devrait penser à ceux qu'elle met en péril. Je la trouvais énervante avant, mais maintenant j'ai envie de l'étrangler !
Il y a quelques évènements marquants dans l'évolution de la saga, et quelques révélations qui me titillaient depuis un bon moment : j'ai été ravie de comprendre enfin une énigme posée depuis bien trop longtemps! Cependant, le rythme du livre est tout de même assez lent, il ne se passe pas grand-chose. J'ai été un peu déçue par le contenu du coup, mais comme il s'agit d'un moment intermédiaire dans la série, ça se comprend un peu. L'humour décalé et tout le gang de Charley sont toujours là malgré tout, offrant des scènes cocasses et amusantes.
La fin se termine en gros cliffangher et j'ai été heureuse d'avoir le tome 9 sous la main pour enchainer de suite (je n'aurai jamais lu le tome 8 dans le cas contraire lol).
Charley Davidson Tome 8 : Eighth Grave After Dark
Le tome 8 sortira le 22 janvier 2016 en France sous le titre Huit tombes dans la nuit (précommande Amazon.fr)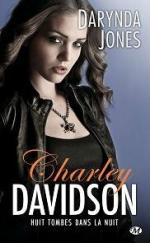 Vos messages