11 octobre 2016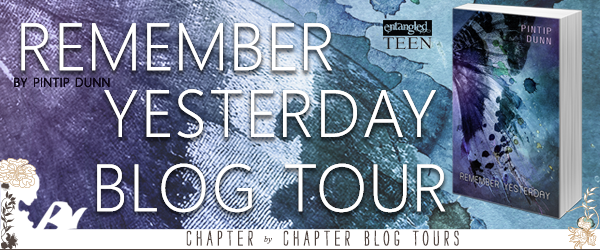 I'm super excited to be a host of the Remember Yesterday blog tour today!
Remember Yesterday is the sequel to the NYT Bestselling and RITA™ Award-winning book, Forget Tomorrow.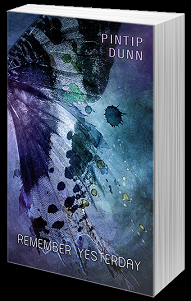 Book Title: Remember Yesterday (Forget Tomorrow, #2)
Author: Pintip Dunn
Release Date: October 4, 2016
Genre: YA Sci Fi
Publisher: Entangled Teen
Sixteen-year-old Jessa Stone is the most valuable citizen in Eden City. Her psychic abilities could lead to significant scientific discoveries, if only she'd let TechRA study her. But ten years ago, the scientists kidnapped and experimented on her, leading to severe ramifications for her sister, Callie. She'd much rather break into their labs and sabotage their research—starting with Tanner Callahan, budding scientist and the boy she loathes most at school.
The past isn't what she assumed, though—and neither is Tanner. He's not the arrogant jerk she thought he was. And his research opens the door to the possibility that Jessa can rectify a fatal mistake made ten years earlier. She'll do anything to change the past and save her sister—even if it means teaming up with the enemy she swore to defeat.
Link to Goodreads:
https://www.goodreads.com/book/show/26091228-remember-yesterday
Purchase Links:
Amazon Buy Link: https://www.amazon.com/Remember-Yesterday-Forget-Tomorrow-Pintip-ebook/dp/B0166RX44O
Barnes & Noble Buy Link: http://www.barnesandnoble.com/w/remember-yesterday-pintip-dunn/1122749494?ean=9781633754942
iBooks Buy Link: https://itunes.apple.com/us/book/remember-yesterday/id1046514286
Kobo Buy Link: https://store.kobobooks.com/en-US/ebook/remember-yesterday-1
Amazon.co.uk: https://www.amazon.co.uk/Remember-Yesterday-Forget-Tomorrow-Pintip-ebook/dp/B0166RX44O
Amazon.ca: https://www.amazon.ca/Remember-Yesterday-Forget-Tomorrow-Pintip-ebook/dp/B0166RX44O
Entangled Publishing: http://entangledpublishing.com/remember-yesterday/
INTERVIEW
Hi Pintip! Forget Tomorrow have won the 2016 RWA Rita Award for Best Book, congrats! How are you feeling about that?
I feel fantastic. Truly, it was an honor beyond my wildest dreams. I was thrilled to be nominated, and I thought there was no way that I would win. Nora Roberts was the one who presented the award, and that made it even more surreal, as she is a writing idol of mine (I've read over a hundred of her books!)
I am so grateful to RWA and for the support of the romance community. It has been truly wonderful.

You once said you are a big sister like Calla. How can you relate to Jessa?
I actually relate to Jessa a lot (even if I'm not a little sister!) She was six years old in FORGET TOMORROW, and now it's ten years later, and she's all grown up. Jessa is spunky. She loves extreme sports -- extreme anything, really -- and lives her life to take risks. At the same time, however, she harbors an intense hatred of the scientists and secretly feels like she is unworthy. She's grown up in the shadows of her sister's actions, and she must find a way to break free from that and prove her worth -- to herself.

I think she's quite a different character from Callie (my heroine from FORGET TOMORROW) -- or at least, she perceives herself to be. Everyone sees Callie as selfless, kind, generous. In contrast, Jessa thinks of herself as a brat who can't get along with her mother and spends her time risking her neck doing stupid stunts.

This is where I relate to her the most. I think we've all had feelings of not being good enough or kind enough or smart enough or pretty enough. So while my sister Lana tells me that this is the plight of little sisters (that they can never live up to their big sisters), I think the insecurity is universal to us all.
In the course of this story, Jessa will come to understand her true worth. What the two sisters have in common is the deep, unconditional love they have for each other and the lengths they would go to for each other. All of their actions are motivated by this bond, and it is their love that makes them strong.

I'm a big fan of Logan. Will he have a big part in this story too?
Yes! He will have an important secondary role that is pivotal to the plot. He isn't one of the main characters, as the story belongs to Jessa and Tanner, but I think you'll see enough of him to make you satisfied.

If you are a fan of Logan, however, be sure to check out the novella, BEFORE TOMORROW, which is his very own story!

Without spoilers, what can we expect of Seize Today, the book 3 of the series?
SEIZE TODAY will be told through the POV of Olivia Dresden (the Chairwoman's daughter), and Jessa's best friend, Ryder Russell, will play a big role. Chairwoman Dresden will also be prominently featured.
What is your next project?
I'm currently working on SEIZE TODAY right now. I'm also really excited about my YA contemporary thriller, GIRL IN BETWEEN, which will release in July 2017. This book is about a Thai-American girl who is caught between cultural worlds -- and what happens to her when a stalker tries to steal her identity.
Thank you so much Pintip Dunn for this interview!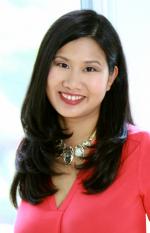 Pintip Dunn is a New York Times bestselling author of YA fiction. She graduated from Harvard University, magna cum laude, with an A.B. in English Literature and Language. She received her J.D. at Yale Law School, where she was an editor of the Yale Law Journel.
Pintip is represented by literary agent Beth Miller of Writers House. Her debut novel, Forget Tomorrow, won the RWA RITA® for Best First Book. Her other novels include The Darkest Lie and the forthcoming Remember Yesterday.
She lives with her husband and children in Maryland.
Author Website: http://www.pintipdunn.com
Author Twitter: http://www.twitter.com/PintipDunn
Author Facebook: https://www.facebook.com/AuthorPintipDunn
Author Goodreads: https://www.goodreads.com/author/show/13442212.Pintip_Dunn
Author Newsletter: https://madmimi.com/signups/163628/join
Author Instagram: https://www.instagram.com/pintip_dunn/
OTHER BOOK IN THE SERIES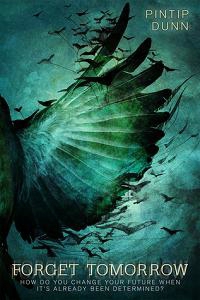 Imagine a world where your destiny has already been decided…by your future self.
It's Callie's seventeenth birthday and, like everyone else, she's eagerly awaiting her vision―a memory sent back in time to sculpt each citizen into the person they're meant to be. A world-class swimmer. A renowned scientist.
Or in Callie's case, a criminal.
In her vision, she sees herself murdering her gifted younger sister. Before she can process what it means, Callie is arrested and placed in Limbo―a prison for those destined to break the law. With the help of her childhood crush, Logan, a boy she hasn't spoken to in five years, she escapes the hellish prison.
But on the run from her future, as well as the government, Callie sets in motion a chain of events that she hopes will change her fate. If not, she must figure out how to protect her sister from the biggest threat of all.
Callie herself.
https://www.goodreads.com/book/show/24804505-forget-tomorrow
GIVEWAY
One (1) winner will receive a limited, annotated hardcover of Forget Tomorrow
Thanks Chapter by Chapter for organizing this blog tour! The schedule can be see here : http://www.chapter-by-chapter.com/blog-tour-schedule-remember-yesterday-forget-tomorrow-2-by-pintip-dunn/
Vos messages