21 décembre 2016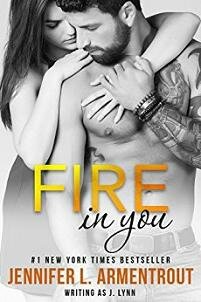 Présentation de l'éditeur
Six years ago, Jillian Lima's whole world was destroyed. The same night her childhood love Brock Mitchell broke her heart, her life was irrevocably altered by a stranger with a gun. After years spent slowly rebuilding the shattered pieces of her life, Jillian is finally ready to stop existing in a past full of pain and regret and is determined to start living. The one thing she never expected was the impossibly handsome Brock walking back into her life...
Brock can't believe that the breathtaking woman standing before him now is the little girl who used to be his shadow growing up. Unable to stay away from each other, their tentative friendship soon sparks into something more and the red-hot chemistry sizzling between them can no longer be denied.
But falling for Brock again risks more than just Jillian's heart. When the past resurfaces, and a web of lies threatens to rip them apart, the fallout could lay waste to everything they've ever cared about...
Mon avis
Dernier volet de la saga Wait for you, on revoit les couples des tomes précédents, et l'histoire intègre également leur évolution, ça fait plaisir de les voir quelques années après, heureux et avançant dans leur vie privée et professionnelle.
L'intrigue principale est une histoire de seconde chance, de rédemption et de pardon. J'aime beaucoup ce thème dans la romance et Jennifer L Armentrout a écrit une belle relation entre Jillian et Brock, mais elle est devenue paresseuse, à mon grand désespoir. Ça marche toujours aussi bien côté émotions et scènes hot, mais tout va trop vite, trop facilement, alors que la psychologie des personnages et l'intrigue elle-même aurait pu être davantage développée. J'étais habituée à ça avec Jen, et cela fait quelques romans que je ne retrouve plus cet aspect. Est-ce que c'est la multiplication des parutions, la fatigue, le fait qu'il s'agisse d'une fin de saga, qui la poussent à bâcler un peu plus le travail ? Attention, le livre est bon, mais mon exigence pour cet auteur est un peu plus haute.
J'espère que les prochains projets pour lesquels elle a l'air excitée seront plus aboutis.
Vos messages