17 mars 2017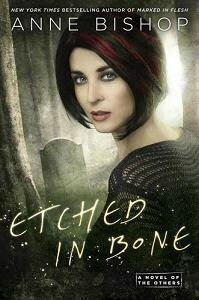 Présentation de l'éditeur
After a human uprising was brutally put down by the Elders—a primitive and lethal form of the Others—the few cities left under human control are far-flung. And the people within them now know to fear the no-man's-land beyond their borders—and the darkness... As some communities struggle to rebuild, Lakeside Courtyard has emerged relatively unscathed, though Simon Wolfgard, its wolf shifter leader, and blood prophet Meg Corbyn must work with the human pack to maintain the fragile peace. But all their efforts are threatened when Lieutenant Montgomery's shady brother arrives, looking for a free ride and easy pickings. With the humans on guard against one of their own, tensions rise, drawing the attention of the Elders, who are curious about the effect such an insignificant predator can have on a pack. But Meg knows the dangers, for she has seen in the cards how it will all end—with her standing beside a grave...
Mon avis
Cinquième tome de la saga de Meg Corbyn, il s'agit également du final de cette série, en attendant un spin off plus focalisé sur les humains dans le même univers. J'adore cette saga d'urban fantasy et j'avais hâte d'en connaitre le déroulement, surtout, je dois le reconnaitre, la romance bourgeonnante entre Meg et Simon.
J'ai adoré ce volet, comme les précédents d'ailleurs, mais j'ai particulièrement apprécié qu'on retourne dans l'Enclos (The Courtyard) et qu'on reste avec les personnages du début que j'affectionne tellement. On a ainsi beaucoup plus de moments avec Sam et Skippy, et cela donne des scènes tendres et émouvantes comme tout, surtout que ces personnages évoluent vraiment depuis le départ, mais aussi quelques apparitions des Elémentaires. Pas beaucoup de Tess malheureusement, elle restera un personnage que j'aurai aimé voir développer davantage, tout comme les Sanguinati. Je ne perds pas espoir pour l'avenir.
L'intrigue tourne autour d'un méchant qu'on connait d'emblée, et on sait rapidement que les ennuis vont arriver et vont être compliqués. On sent que Meg va être très vite en danger, ce qui aura des conséquences sur tous les protagonistes. J'ai été pleinement comblée par le déroulement et la tension émanant de cette intrigue, et la conclusion attendrissante pour notre duo préféré. Je n'en dis pas plus, mais à l'image de toute la saga, c'est pudique et à fondre.
Il me reste quand même pas mal d'interrogations sur le devenir des personnages, mais j'aime tellement cet univers, que je ne voudrai jamais le quitter, et qu'il y ait encore plein de tomes avec les Autres. Je lirai le spin off quand il sortira, tout en ayant la crainte que cela ne me happe pas aussi vite et fort que la saga originelle.
Vos messages