10 octobre 2017
EL James vient d'annoncer que Fifty Shades Darker raconté du point de vue de Christian sortira le 28 novembre aux Etats-Unis et en Angleterre (précommande Amazon.fr).

E L James revisits the world of Fifty Shades with a deeper and darker take on the love story that has enthralled millions of readers around the globe.
Their scorching, sensual affair ended in heartbreak and recrimination, but Christian Grey cannot get Anastasia Steele out of his mind, or his blood. Determined to win her back, he tries to suppress his darkest desires and his need for complete control, and to love Ana on her own terms.
But the horrors of his childhood still haunt him, and Ana's scheming boss, Jack Hyde, clearly wants her for himself. Can Christian's confidant and therapist, Dr. Flynn, help him face down his demons? Or will the possessiveness of Elena, his seducer, and the deranged devotion of Leila, his former submissive, drag Christian down into the past?
And if Christian does win Ana back, can a man so dark and damaged ever hope to keep her?
JC Lattes a suivi dans la foulée avec une parution VF le 6 décembre 2017 (précommande Amazon.fr)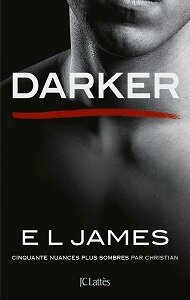 Après une liaison passionnée qui s'est achevée dans les larmes et les reproches, Christian Grey est incapable d'oublier Anastasia Steele. Il l'a dans la peau. Décidé à regagner son amour, il s'efforce de réprimer ses désirs les plus troubles et son besoin de tout contrôler pour enfin aimer Ana selon ses conditions. Hélas, son enfance continue de le hanter, d'autant que Christian comprend que Jack Hyde, le patron sournois d'Ana, la veut clairement pour lui seul. Le Dr Flynn, confident et thérapeute de Christian, parviendra-t-il à l'aider à affronter ses démons ? Ou est-ce que l'amour exclusif d'Elena et l'adoration insensée de son ex-soumise, Leila, finiront par le retenir dans le passé ? Et si, malgré ses tourments et ses obsessions, Christian réussit à reconquérir Ana, sera-t-il capable de la garder ?
Vos messages