14 août 2018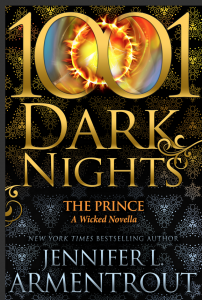 Présentation de l'éditeur
She's everything he wants…
Cold. Heartless. Deadly. Whispers of his name alone bring fear to fae and mortals alike. The Prince. There is nothing in the mortal world more dangerous than him. Haunted by a past he couldn't control, all Caden desires is revenge against those who'd wronged him, trapping him in never-ending nightmare. And there is one person he knows can help him.
She's everything he can't have…
Raised within the Order, Brighton Jussier knows just how dangerous the Prince is, reformed or not. She'd seen firsthand what atrocities he could be capable of. The last thing she wants to do is help him, but he leaves her little choice. Forced to work alongside him, she begins to see the man under the bitter ice. Yearning for him feels like the definition of insanity, but there's no denying the heat in his touch and the wicked promise is his stare.
She's everything he'll take…
But there's someone out there who wants to return the Prince to his former self. A walking, breathing nightmare that is hell bent on destroying the world and everyone close to him. The last thing either of them needs is a distraction, but with the attraction growing between them each now, the one thing he wants more than anything may be the one thing that will be his undoing.
She's everything he'd die for…
Mon avis
Cette novella peut se lire de manière indépendante, mais je conseille quand même d'avoir lu la trilogie Wicked avant afin de mieux savourer l'univers, le contexte et les personnages. Brighton fait partie de l'Ordre et est amie avec Ivy, mais n'est pas sur le terrain. A la suite d'un drame, elle décide de se venger mais trouve sur son chemin le Prince de la Cour d'été, mystérieux et dangereux.
J'ai beaucoup aimé le personnage du Prince, très complexe depuis qu'on sait ce qui lui est arrivé dans la trilogie. Il est puissant, protecteur et est très charismatique à chacune de ses apparitions. Il semble amusé et charmé par Brighton qui pourtant n'est pas une de mes héroïnes préférées. Elle est courageuse mais ne réfléchit pas trop et surtout n'arrête pas de se prendre la tête, elle et les autres, à force de discutailler à longueur de temps, et même lorsque les situations sont tendues ou urgentes.
On voit un peu Ivy et Ren, toujours aussi amoureux, mais c'est surtout Tink qui est de retour, hilarant comme d'habitude, et qui est tout le temps une joie à suivre.
Je pensais que c'était une simple novella, mais non, on finit sur un cliffangher, et on devra attendre l'année prochaine pour lire la suite, The King.
La novella sort aujourd'hui, merci Jen!
Vos messages