09 octobre 2018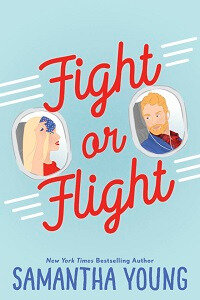 Présentation de l'éditeur
The universe is conspiring against Ava Breevort. As if flying back to Phoenix to bury a childhood friend wasn't hell enough, a cloud of volcanic ash traveling from overseas delayed her flight back home to Boston. Her last ditch attempt to salvage the trip was thwarted by an arrogant Scotsman, Caleb Scott, who steals a first class seat out from under her. Then over the course of their journey home, their antagonism somehow lands them in bed for the steamiest layover Ava's ever had. And that's all it was–until Caleb shows up on her doorstep.
When pure chance pulls Ava back into Caleb's orbit, he proposes they enjoy their physical connection while he's stranded in Boston. Ava agrees, knowing her heart's in no danger since a) she barely likes Caleb and b) his existence in her life is temporary. Not long thereafter Ava realizes she's made a terrible error because as it turns out Caleb Scott isn't quite so unlikeable after all. When his stay in Boston becomes permanent, Ava must decide whether to fight her feelings for him or give into them. But even if she does decide to risk her heart on Caleb, there is no guarantee her stubborn Scot will want to risk his heart on her….
Mon avis
Samantha Young revient avec une romance contemporaine adulte en one shot, avec un héros écossais bien entendu. Le début du livre est explosif, avec des situations hilarantes et des joutes verbales à n'en plus finir entre les deux personnages principaux. Ca fuse de partout, ce qui devient même un peu éreintant à suivre au bout d'un moment tant ça ne s'arrête jamais. Les préjugés de part et d'autre ont la dent dure, déclenchant un mélange d'attirance et de méfiance entre eux. Ils sont tous deux réticents à l'engagement, et pourtant tous leurs actes prouvent le contraire, c'est touchant à suivre.
L'histoire évolue néanmoins vers un ton plus classique, avec les dramas qui s'étirent en longueur et qui ne sont pas ma tasse de thé, mais c'est très personnel comme impression. J'ai bien aimé ma lecture, mais j'ai l'impression que c'est du déjà-vu et sans m'ennuyer, il manque cette petite étincelle qui fait qu'il s'agit d'un super livre.
Le roman sort aujourd'hui, merci Samantha!
Vos messages