03 octobre 2019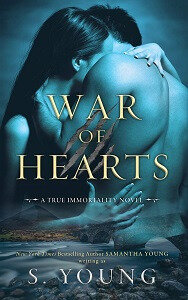 Présentation de l'éditeur
Thea Quinn has no idea what she is. All she knows is that her abilities have been a plague upon her life since she was a child. After years of suffering at the hands of a megalomaniac, Thea escaped and has been on the run ever since.
The leadership and protection of his pack are of the utmost importance to Conall MacLennan, Alpha and Chief of Clan MacLennan, the last werewolf pack in Scotland. Which is why watching his sister slowly die of a lycanthropic disease is emotional torture. When Conall is approached by a businessman who offers a cure for his sister in exchange for the use of Conall's rare tracking ability, Conall forges an unbreakable contract with him. He has to find and retrieve the key to the cure: dangerous murderer, Thea Quinn.
Thea's attempts to evade the ruthless werewolf are not only thwarted by the Alpha, but by outside dangers. With no choice but to rely on one another for survival, truths are revealed, intensifying a passionate connection they both fight to resist. At war with themselves and each other, Conall and Thea's journey to Scotland forces them to face a heartrending choice between love and betrayal.
Mon avis
Samantha Young aime la romance paranormale et a commencé sa carrière dans ce genre, mais je ne les ai jamais lus. J'étais donc curieuse de voir comment elle allait s'en sortir. J'ai tout de suite retrouvé son style d'écriture, que ce soit dans l'ambiance du roman ou la description des personnages. En plus, l'histoire se passe bien évidemment en Ecosse, avec un clan et un vrai mâle alpha en héros.
J'ai donc passé un excellent moment de lecture avec la découverte de l'univers des loups garous écossais et sa mythologie telle que dépeinte par Samantha Young. J'admire beaucoup Thea qui est une héroïne forte et admirable, car elle n'a pas eu une vie facile et doit se débrouiller seule pour survivre, sans pour autant se départir de son cœur d'or. De son côté, Conall est un dominant mais n'abuse pas de sa position, au contraire, j'apprécie qu'il respecte les décisions de Thea et lui laisse son indépendance, en dépit de ses instincts surprotecteurs.
Leur relation est donc équitable, contrairement à ce qu'on pourrait penser de premier abord, les deux personnages sont pris dans un tourbillon d'action et de violence mais savent se défendre individuellement. On ne s'ennuie pas une seconde et la romance est mignonne comme tout. J'aurai aimé avoir une novella sur les personnages secondaires car ils ont l'air adorables.
Vos messages