29 janvier 2018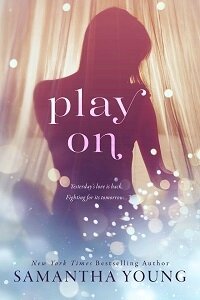 Présentation de l'éditeur
Nora O'Brien chased a dream from Indiana to Scotland, so sure it was the right thing to do. Three years later she was left in her adopted country with nothing to her name but guilt and regret.
Until Aidan Lennox entered her life.
Older, worldlier, a music producer and composer, the sexy Scot should never have made sense for Nora. But somehow in each other they found the light they were looking for, the laughter and the passion—the strength to play on despite their past losses.
But when life dealt Aidan another unlucky hand, instead of reaching for her he disappeared. The agonizing loss of him inspired something within Nora. It fired her spirit— the anger and hurt pushing her forward to take control and reach for her dreams.
Finally pursuing a career on stage while she put herself through college, everything is how Nora wants it. She's avoiding heartbreak and concentrating on her goals.
Sounds easy but it's not. Because Aidan is back. And for some reason he hates Nora.
He's determined to be at war with her.
And she has absolutely no idea why.
Mon avis
Il s'agit cette fois-ci d'une romance adulte, comme sait si bien le faire Samantha Young. Mais la construction de l'intrigue diffère avec une évolution chronologique de l'histoire, au lieu de l'alternance entre le présent et les flashbacks. Cela donne une perspective intéressante sur la vie de Nora, dont on suit le parcours pendant de nombreuses années, et qu'on apprend à comprendre les réactions et les pensées.
Au-delà de la romance, on suit donc l'évolution d'un personnage et ses aspirations dans la vie. J'ai autant aimé suivre ça que la relation entre Nora et Aidan. Mais bien sûr, l'histoire d'amour occupe une place importante dans le roman, et j'ai aimé la progression maitrisée de l'auteur.
Je trouve que la résolution est néanmoins un peu précipitée, et le rampage du héros pas assez satisfaisant lol, alors qu'on se dirigeait droit vers un des dramas qui serrent le cœur bien comme il faut. Quelques questions restent également en suspens, j'espère qu'on aura un aperçu de l'après un jour.
Vos messages