27 juin 2012
Le tome 3 de la saga Bloodlines de Richelle Mead s'appellera The Indigo Spell et sortira le 12 février 2013!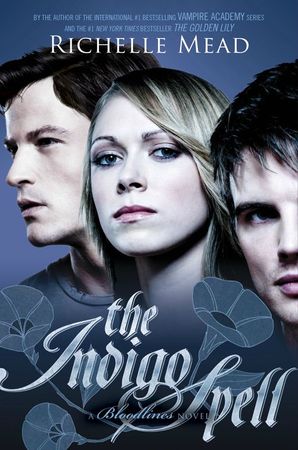 (trop de monde sur la couv lol)
Résumé :
After an event that changed Sydney and Adrian's lives forever, Sydney struggles to draw the line between her Alchemist teachings and what her heart is urging her to do. Then she meets alluring Marcus Finch, a former Alchemist who pushes her to rebel against the people who raised her. And when Sydney comes face to face with an evil magic user, she finally begins to embrace the mysterious magic she knows she holds within . . .
Le premier paragraphe :
This wasn't the first time I'd been pulled out of bed for a crucial mission. It was, however, the first time I'd been subjected to such a personal line of questioning. "Are you a virgin?"
Le premier chapitre à lire ICI (pauvre Adrian, toujours à souffrir comme ça :'( )
Et quelques citations révélées par Richelle Mead :
"Under normal circumstances, you inviting me to the bedroom would be the highlight of my day."

"We need to get inside. I think my hair gel's frozen."

"it's Kahlua, Sage. Packed with sugar and coffee flavor."

"Who knows more about male weakness: you or me? Use my knowledge, Sage."

"Do you want me to call you Celery Stick instead of Cupcake or Honey-Pie? It just doesn't inspire the same warm and fuzzy feelings."
Vos messages